Got to work on a new colored pencil piece--I've been really excited about this one, a tulip close-up with some really rich colors. A few hours into it, I really blew it. Used a blender way too soon (denatured alcohol) and then a wrong (dark) color too heavily on top of that--I know better than that! It's really put me on the skids and I can't seem to get working again--on anything at all, not just this piece. Tried some serious erasing in the worst spot, and maybe tonight I'll see if it can be saved.
In the past these times have lasted up to six months. Hoping to force myself to get back to work quickly, though.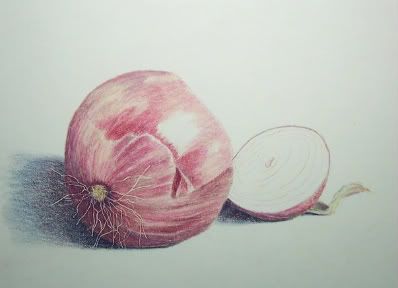 In the meantime, here's a little colored pencil piece I did for a two hour challenge on Painting Friends:
Wilford's Onion
. In the 1950s my family lived in a tiny little town (450 pop.) in southern Utah. The neighbors across the street would have us over for barbeques in the summertime and there'd always be big purple onions from their garden. Seeing a purple onion always reminds me of those wonderful summer evenings.